Description
The Original Legal Hustle Clothing Brand® | MMXI
"Legal Hustle We The King" – Lyrique (Quarantine Flow)
Following the successful drop of P.I.M.P (Poetry Is My Pleasure) we have teamed up once again with Calgary's very one Lyrique to bring you a limited run of P.I.M.P Merch.
6 oz
100% Cotton Jersey
Unisex
Please Note due to Covid-19 Canada Post is experiencing some delays.
LYRIQUE ANNOUNCES NEW ALBUM, SHARES VIDEO FOR "LIVE WELL"
 NEW ALBUM P.I.M.P. (POETRY IS MY PLEASURE) OUT ON OCTOBER 14
" While hip-hop has evolved a lot in recent years, with the production and energy of a track becoming more of a focus than ever,
Lyrique is keeping lyrical content at the forefront of his artistic output." — Complex
 "…seamless fusion between 'boom-bap' style conscious rapping and soulful vocal deliveries." — BeatRoute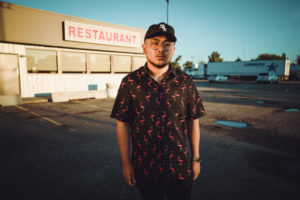 PHOTO CREDIT: Oliver Banyard // DOWNLOAD HIGH-RES
Facebook | Bandcamp | Spotify | Instagram | Twitter | Soundcloud
(Calgary) September 23, 2020—Rapper Lyrique is returning with the blissful single, "Live Well," which will appear on his debut full-length album, P.I.M.P. (Poetry Is My Pleasure), set for release on October 14.
The Philippines-born, Calgary-based artist's mélange of hip hop and R&B is pulled from the chilled-out rap underground (hear: YGTUT and Isaiah Rashad) and the eclectic soul and R&B sounds of Soulection Radio.
With rhymes that often focus on his experience as a temporary migrant worker turned permanent Canadian resident, "Live Well" is an internal dialogue about where he's been and how far he's come. "Used to live the daily on a dime/Was broke as shit," he rhymes coolly on the track, "Turn my peso up and now I'm fine/You think I'm rich."
Then, as if to clarify any misconceptions, he offers the stark reminder: "Bet you never knew I came/You done never knew I saw/Grew up in the motherland/When they die around the clock."
Sing-rapping over relaxed beats, Lyrique sets his intentions to attain the life he's always wanted. The video's opening scene of a plane landing is a nod to his arrival in his adopted home and the dreams he's already set in motion. "I would watch planes flying by when I was in the Philippines and think about what it would be like to live a different life somewhere else," Lyrique says. "That image of the plane became a symbol of escape for me, escape from poverty or a stressful situation."
The video features various shots of Lyrique perched from empty bleachers. As the camera pans out near the end to reveal a wide-open field, the message of endless possibilities becomes clearer. "'Live Well' is about setting your sights on a goal and persevering through the lows," he says.
Lyrique arrived from Baguio, Philippines to Calgary, Alberta in 2014 as a temporary foreign worker. Soon after, the one-time bedroom lyricist was performing at Cafe Koi's Elevated Etiquette open mic, and the regular hip hop showcase, 10 at 10, which has nurtured other Calgary acts such as Jae Sterling and A.Y.E. Since then, Lyrique has shared bills with JPEGMAFIA, Chali 2na, Tyga, Fetty Wap, and Cartel Madras.
P.I.M.P. (Poetry Is My Pleasure) follows the four-track 2019 Blank EP that channeled his affinity for club rap and a series of singles, including the 2018 swag-builder "Marathon" that was featured in Complex. Melancholic 2017 single, "Escape," which touched on the racism and discrimination Lyrique experienced in Canada while working as a live-in nanny and how he rose above it, earned him attention from MTV Philippines and CBC's Q after Kim's Convenience actor Andrew Phung called it his favourite song during an interview with Tom Power.
More recently, 2020 track "Quarantine Flow," which will also appear on P.I.M.P. (Poetry Is My Pleasure), was included on The Sled Island Lemonade Stand Vol. 2, a digital compilation of unreleased songs from Calgary artists who were scheduled to play Sled Island 2020 before quarantine.
P.I.M.P. (Poetry Is My Pleasure) is a hip hop tale about Lyrique's visions of a Canadian dream. Look for it on October 14.
Track list:
Lights
Hunger
Live Well
Drive Slow ft. Black Wednesday
Pimpin' Wasn't Easy ft. DJ Rocswell
Namaste ft. Jay Swifa
Quarantine Flow
Hope Dealer ft. Lorie
Varsity Sunset ft. Dill the Giant
East Bonavista
Casino Royal ft. K-Riz and Black Wednesday
Dressing Room